When struggling with acid-reflux, it can be difficult to know what foods to eat in order to avoid aggravating your symptoms. Because so many foods can be particularly triggering, many people are left confused on what to safely eat.
Don't skip the most important meal of the day! Feel confident enjoying this acid-reflux friendly breakfast, instead. This Ginger Pear Oatmeal is the perfect soothing breakfast that won't provoke, and can even ease your acid-reflux symptoms.
Ginger
One of the key ingredients in this recipe is ginger. Paired with the warm creamy oats, and the sweet pear, this oatmeal is a truly comforting meal to be enjoyed on cold mornings. Not only does ginger provide a sweet peppery taste, it also acts as a natural treatment for heartburn and other gastrointestinal symptoms, such as nausea, bloating, cramping, and gas.
This recipe calls for just a hint of freshly grated ginger to elevate the taste and provide these health benefits. Using a vegetable peeler, peel the tough skin off the outside of the ginger root. Then, using a microplane, or a fine cheese grater, grate the ginger like you would lemon zest. If fresh ginger isn't available in your grocery store, you can also use preportioned crushed ginger cubes available in the freezer aisle.
Oats
Rolled oats are a vital component to homemade oatmeal. They are a staple ingredient in most kitchens, making their way into oat flour, baked goods, energy bites, and even smoothies.
Rolled oats are a whole grain food, meaning they contain all three parts of the grain: the bran, the endosperm, and the germ. Grains in this form have a higher nutrient content. They are also incredibly high in fiber, particularly in a type of soluble fiber, which is great for digestion.
Most importantly, research shows that a high fiber intake has been linked to a decreased risk of acid-reflux disease. Additionally, a high fiber intake is associated with weight loss, lower blood sugar levels, decreased constipation, lower blood cholesterol levels, decreased risk of diabetes, and decreased risk of cardiovascular disease. With all of those benefits, it's a good idea to add fiber to every meal.
Walnuts
This oatmeal recipe calls for chopped walnuts as a topping for a bit of crunch and some healthy fats. Walnuts are high in omega 3 fatty acids. These are healthy fats that have many health benefits including decreased risk of anxiety, cancer, depression, pain, and inflammation. They have also been shown to lower blood triglyceride levels, which has a positive impact on heart health.
While a diet too high in unhealthy fats, like fried foods and fatty meats, can aggravate the symptoms of acid-reflux, healthy fats are an important part of the diet and should be included. Most individuals do not consume enough omega 3 fatty acids, so be sure to enjoy them – the more the merrier.
Balanced Meal
The ginger, oats, and walnuts are all key ingredients in making this dish acid-reflux friendly. Because this meal is composed of healthy fats, carbohydrates, and protein, this dish is particularly balanced, meaning it will keep you full and energized for several hours. Just what we are looking for in a breakfast recipe!
Protein is found in the walnuts as well as in the oats. Oats are a major source of carbohydrates in this dish as well as the pear and maple syrup. And the healthy fats can be found in the walnuts. All of these components combined contribute to the steady supply of energy this hearty meal provides. This means you will avoid the dreaded energy crash typically associated with high carbohydrate and high fat meals, while remaining full and satisfied.
Gather your ingredients
To get started, you will first need to gather your ingredients. You will need rolled oats, grated ginger, pear, walnuts, and maple syrup. Additionally, you will need non-dairy milk. Here, we used soy milk, but feel free to substitute any kind you like.
Step by Step Process
You can begin by placing your soy milk in a small saucepan on the stove top. Bring this to a boil. Once boiling, add the rolled oats, the grated ginger, and the diced pear. Keep about 1 tablespoon of diced pear aside for the topping. Give this mixture a good stir and let it simmer for about 8 minutes, until the oats get thick and the liquid begins to absorb. Then, pour the oatmeal into a serving bowl. Now, you can add your toppings. Sprinkle on the chopped walnuts and reserved diced pear. Then add a drizzle of maple syrup for a touch of sweetness. Just like that you are ready to enjoy! In a matter of minutes you have a delicious and hearty balanced breakfast that will fight your acid-reflux symptoms.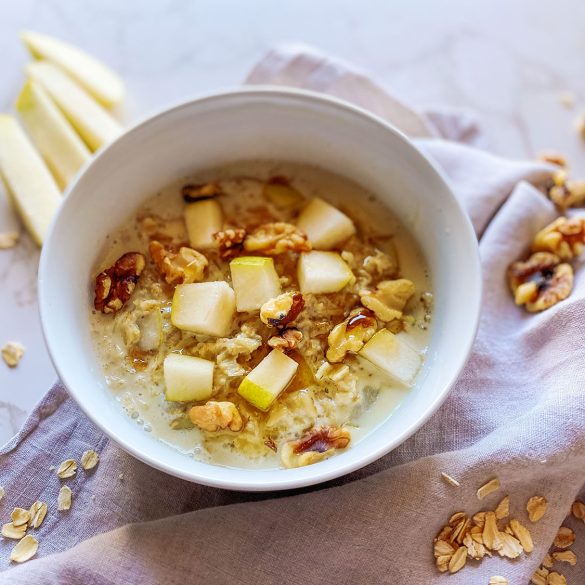 Ingredients
1 cup soy milk (or any other non-dairy milk)
½ cup rolled oats
½ teaspoon freshly grated ginger
¼ pear, diced + 1 tablespoon, diced for topping
2 tablespoons chopped walnuts
A drizzle of maple syrup
Instructions
Place soy milk in a small saucepan on the stove top. Bring to a boil. 
Add oats, ginger, and pear. Be sure to reserve 1 tablespoon of diced pear and set aside for topping.
Let this mixture simmer for about 8 minutes. Then, pour into a serving bowl.
Top with remaining diced pear, walnuts, and a drizzle of maple syrup.